Bally Bon Voyage Pinball Machine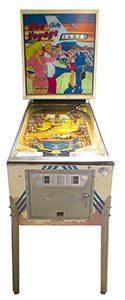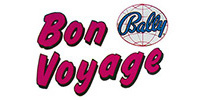 Bally Bon Voyage EM Pinball Machine Model Number 1016
Serial Number 2006
Made in 1974
Internet Pinball Database (www.ipdb.org) No. 343
xsvtoys Pinball Machine No. 1
Bon Voyage is an older EM pinball machine, made before computer technology came to the pinball market. It doesn't have all of the exciting action and features of the modern machines, but it is one of the later EM machines so it does have some interesting game play. The usual assortment of elements are here, such as pop bumpers, rollover buttons and wires, targets to hit, etc. Some of the unique features are:
Ball Return. The ball can be deflected back into the ball shooter lane and get a 3000 bonus in the process.
Ball Hole Score. The ball in play can fall into a hole on the playfield and receive a score of 2000, 3000, 4,000, or 5,000 points which is determined by a spinner target.
BON VOYAGE Bonus. The main goal of the game is to spell out all 9 letters in BON VOYAGE by hitting various targets and rollovers. Each time the ball goes down into the outhole a 1000 point bonus is added for each lit letter.
Special Captive Ball Target. When all 9 letters in BON VOYAGE are lit, the Special is activated. In order to achieve the special, the player must cause the ball to strike another ball that is being held in a captive lane, sending it upward so it strikes the Special target to win the reward. The Special can be set for a credit (extra game), extra ball, or 5000 points.
Bon Voyage is what is known as an "Add-A-Ball" game. As noted above, when the Special is achieved, or when the high score is achieved, the machine can be set to give the player an extra ball rather than a credit for a free game. This is an especially nice feature for a home machine, since it is most likely set for free play thus rendering the idea of a free game a bit unnecessary. It is a better reward to get an additional ball during a game which can be used to get to a higher score.